AirAsia Malaysia to reinstate flights to India
Posted On April 13, 2022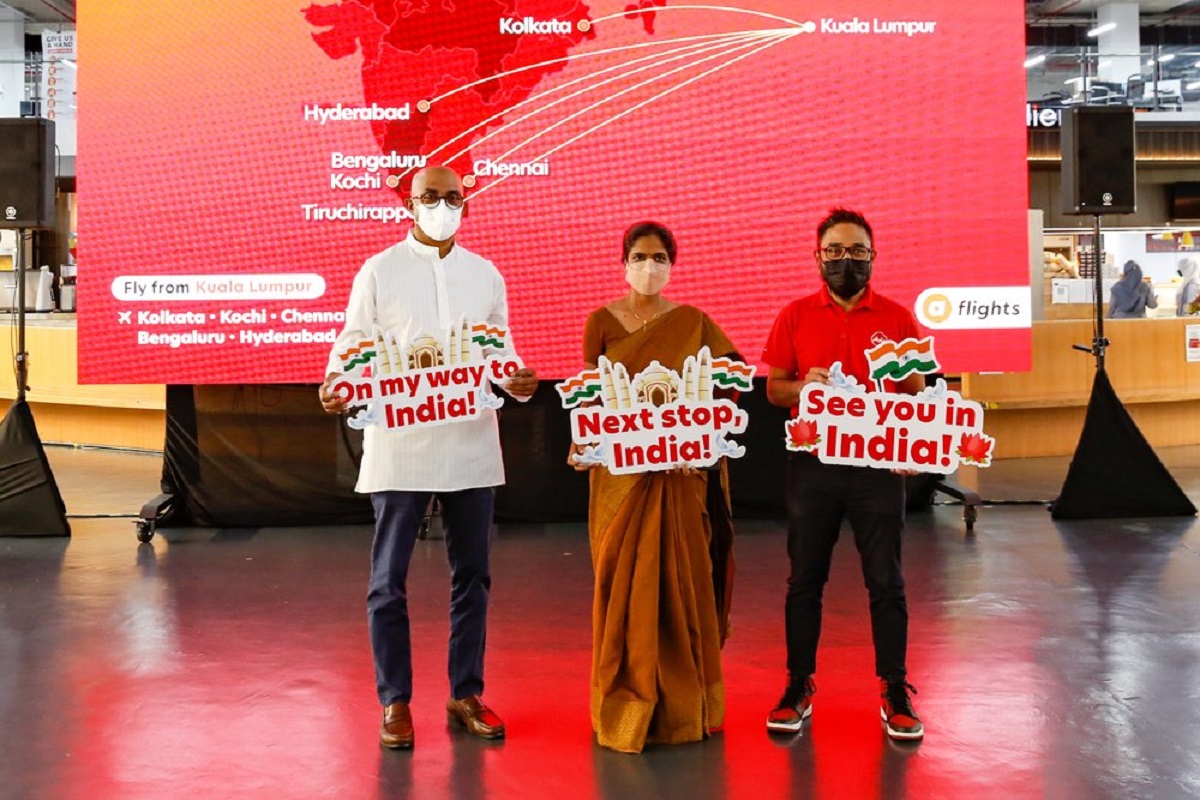 SEPANG (April 13): AirAsia Malaysia said on Wednesday (April 13) that the budget airline is preparing to reinstate flights from the country to India starting from May to cater to an expected increase in travel demand in line with Covid-19 vaccination-driven reopening of international borders.
In a statement, AirAsia Malaysia chief executive officer (CEO) Riad Asmat said the airline is preparing for a resumption of flights to many core destinations in India including Bengaluru, Chennai, Hyderabad, Kochi, Kolkata and Tiruchirappalli.
The statement was issued to reporters covering the airline's press conference here in conjunction with the announcement of the planned resumption of its Malaysia-India flights, which were halted due to global pandemic-driven movement restrictions.
"To celebrate the resumption of 30 additional weekly flights to India launching this month and next month, AirAsia Malaysia is offering guests and travel agents a 20% discount to all Indian destinations from Malaysia through the airasia Super App from today until May 1, 2022, along with a complimentary 20kg check-in baggage allowance for each booking.
"Book now by clicking on the 'Flights' icon on the Super App for the travel period between May 1, 2022 and March 25, 2023," the statement read.
Riad said India is one of AirAsia Malaysia's most important markets.
"We have been preparing rigorously to assure all of our guests a safe, seamless and convenient travel experience. With borders being reopened across the region, AirAsia Malaysia will continue to review and add onto our expanding network to cater for increasing demand for air travel, including the 30 weekly flights from Malaysia to India launching by the end of May.
"Furthermore, with a total of 71 weekly flights to be operated by the end of 2022, AirAsia Malaysia will be soon returning to pre-Covid-19 capacity, flying more than 140 weekly services to and from India," he added.
Also present at the press conference were AirAsia Aviation Group Ltd group CEO Bo Lingam and High Commission of India in Kuala Lumpur official C Sushma.
Bo said that AirAsia Malaysia plans to quickly re-establish flights to India as Malaysia is seen as a gateway to the ASEAN region.
"This is why we are accelerating and we want to quickly establish as many flights as possible in various parts of India.
"This is to highlight to everyone in Malaysia, India and across the region as well that [flight] connectivity has started.
"We will continue [to expand more routes] and hopefully by December, we will return to pre-pandemic levels," he added.
Sushma said in the statement that India already reopened both its international borders to tourists in October 2021 and its commercial airspace from March 27, 2022.
The Malaysian government, meanwhile, announced the reopening of the country's international borders from April 1 in tandem with the transition to the Covid-19 endemic phase on vaccination progress since the outbreak began in early 2020.
"With the opening of both countries' borders, we are confident that two-way traffic will resume smoothly and grow progressively.
"This is an important step in reconnecting India and Malaysia as people-to-people connectivity lies at the foundation of this important partnership.
"AirAsia Malaysia has been offering low-cost flights to India since 2008, connecting travellers from Kuala Lumpur to multiple destinations in India. We warmly welcome the resumption of direct commercial flights between India and Malaysia after two long years," Sushma added.
Capital A Bhd wholly-owns AirAsia Aviation Group, which oversees four airlines, namely AirAsia Malaysia, AirAsia Philippines, AirAsia Thailand and AirAsia Indonesia.
Capital A, which was formerly known as AirAsia Group Bhd, closed up one sen or 1.45% at 70 sen on Wednesday, which valued it at about RM2.91 billion.
The company's latest-reported number of issued shares stood at 4.16 billion, according to a filing with Bursa Malaysia on April 6.
Source: https://www.theedgemarkets.com/article/airasia-malaysia-reinstate-flights-india-may-1-2022