AirAsia expects full capacity recovery by 1Q 2023
Posted On March 22, 2022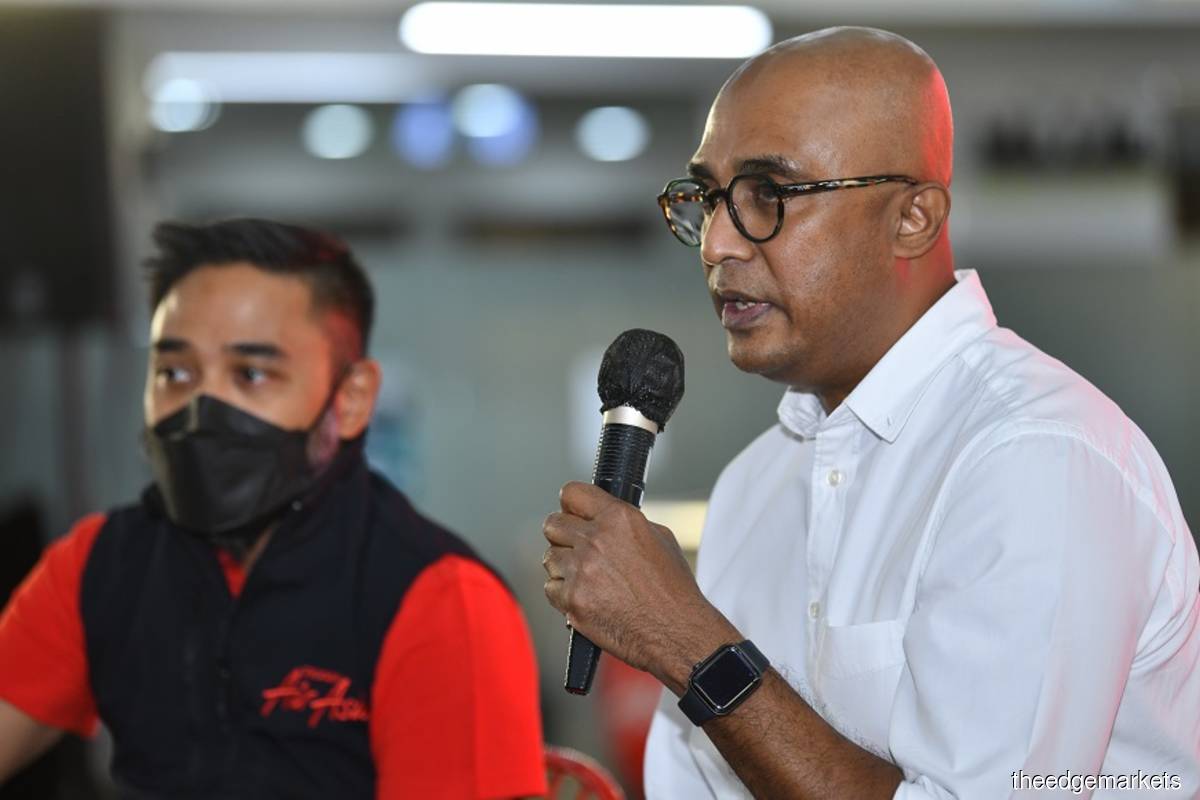 KUALA LUMPUR (March 22): After seeing air travel brought to a near standstill in 2020, AirAsia Aviation Group Ltd (AAAGL), the airline arm of Capital A Bhd, expects its passenger capacity to recover to 90% of its pre-Covid-19 levels by the end of this year and reach 100% in the first quarter of next year, as Malaysia gears up for a full reopening of its international borders beginning next month.
The low-cost carrier currently operates 75 aircraft, about 38% of its total fleet of 200 aircraft. Of the 75 aircraft, more than 60% are used for domestic flights and the rest by its operating units in Thailand, Indonesia and the Philippines.
"AirAsia Malaysia has turned cash-flow positive since this month and the moment jet fuel prices start falling, (we should see a recovery in earnings)," AAAGL group CEO Bo Lingam told The Edge on Tuesday (March 22) after a news conference to announce the carrier's preparations for the border reopening on April 1.
On March 8, AirAsia Malaysia reintroduced fuel surcharges for all its domestic and international flights to offset escalating jet fuel prices, which have exceeded US$120 per barrel.
Bo said the carrier can only absorb the oil price increase till up to US$75 to US$80 a barrel, after which it has to pass on the additional fuel costs to its customers.
He also said AirAsia is expecting a full recovery in its passenger traffic to 2019 levels earlier than the full recovery target of 2024 issued by the International Air Transport Association, as the carrier is focusing on the ASEAN markets, where it sees strong pent up demand.
"We are going to open more routes in Southeast Asia. We want to stimulate more growth in ASEAN. For instance, we are looking at mounting flights from Jakarta to Dili or Kuala Lumpur to Lombok. I also hear South Korea will be opening up. Then, we can do more flights from the Philippines to South Korea and Japan," he added.
"When I look at our bookings, I can see that demand from Singapore, Bangkok and the Philippines are going up. I am putting more capacity into these countries because Hong Kong and China stay closed to the world. Cathay Pacific is not flying to Penang (from Hong Kong) anymore. In fact, almost all incoming flights (to Malaysia operated by foreign) airlines have stopped. So now, ASEAN is our playground.
"That's why we are ramping up our operations and capacity in this region because we see the demand. The moment countries like Malaysia remove the Covid-19 PCR test requirements or PCR tests become a more manageable cost, then more people will start to travel. (The cost of Covid-19 tests) is the only thing that deters people from travelling. I think the government is cognisant of this. Give them a month or a month-and-a-half (after the border reopening), I think they will do away (with the Covid-19 test requirement)," said Bo. Visitors and Malaysian returnees who are fully vaccinated are not required to undergo quarantine upon arrival beginning next month. They, however, must undergo a RT-PCR test two days before departure and a rapid test (RTK) upon arrival.
"In fact, I am ready to increase our fleet. Even though we have deferred delivery of our planes to 2024, if there is demand, we will take delivery earlier," he added.
AirAsia Malaysia CEO Riad Asmat concurred. "The challenge is when your flight ticket is RM300 and you have to take the PCR test that costs about RM200 or RM300. But there will be no quarantine requirements for travellers who are fully vaccinated against Covid-19 from next month," he said.
On AirAsia's preparations for the border reopening, Riad said: "We have continuous engagements with the authorities including the airport operator on how we are going to manage passengers come April 1. We are all on the same page right now. The only challenge in the next couple of weeks is to make sure that we communicate the right information to our passengers to ensure seamless arrival.
"The authorities are going to remove all standard operating procedures that are currently in place such as the Covid-19 test swab before you reach Immigration. The only point of contact passengers will have will be at the Immigration counter. Upon meeting the Immigration officer to check your passport and MySejahtera application, you will be released immediately. So yes, I think everyone is ready, not just the airlines," he noted.
Capital A narrowed its net loss to RM3.12 billion in the financial year ended Dec 31, 2021 (FY2021) from RM5.11 billion in FY2020. Revenue, however, shrank to RM1.73 billion from RM3.27 billion in that period.
Capital A shares closed up one sen or 1.63% at 62 sen on Tuesday, bringing a market capitalisation of RM2.58 billion. Its share price has fallen 22.84% year to date.
Source: https://www.theedgemarkets.com/article/airasia-expects-full-capacity-recovery-1q-2023