Three New COVID Cases of Unknown Origin 'Under Investigation', as Northern Territory Government Defends Continued Use of PCR Tests
Posted On December 29, 2021
Health authorities are investigating the origins of three new COVID-19 cases in the Northern Territory, including one in a nine-year-girl.
The investigation comes as the Northern Territory government defends its continued requirement for interstate and international arrivals to have a pre-departure PCR test, despite some jurisdictions scrapping the measure.
Health Minister Natasha Fyles announced 19 new cases of COVID-19 in the Territory on Wednesday, including three cases she said were "still under investigation".
Those include two household contacts of a recent traveller who has so far tested negative to COVID-19, and a nine-year-old girl from Darwin whose source of infection is still unknown.
"We're yet to establish how she has gained COVID-19, how she has tested positive," Ms Fyles said.
"She has attended a number of locations over the Christmas period, and she has 18 close contacts at this stage.
"But our Centre for Disease Control teams are working with her and her family, to establish where she made have caught the virus, and what contact locations we do need to notify the community about."
Ms Fyles said another three of the Territory's 19 new cases were linked to its ongoing, local COVID-19 outbreak, bringing the total of cases in the recent outbreak to 154.
All three of those local cases are from the Tennant Creek area and have been in quarantine at Alice Springs' Todd facility throughout their infectious period.
Three of the new cases are interstate arrivals, eight are close contacts of interstate arrivals and two are flight crew members who arrived in the Territory on international flights.
Ms Fyles said the lockout in Tennant Creek and mask mandate across the wider Barkly region would lift, as planned, at 5pm today.
"The good news for Tennant Creek and the Barkly is that the cases that we're seeing are coming from those close contacts [who] are in isolation," she said.
"I thank the residents of Tennant Creek, who have been in lockdown and lockout for some period."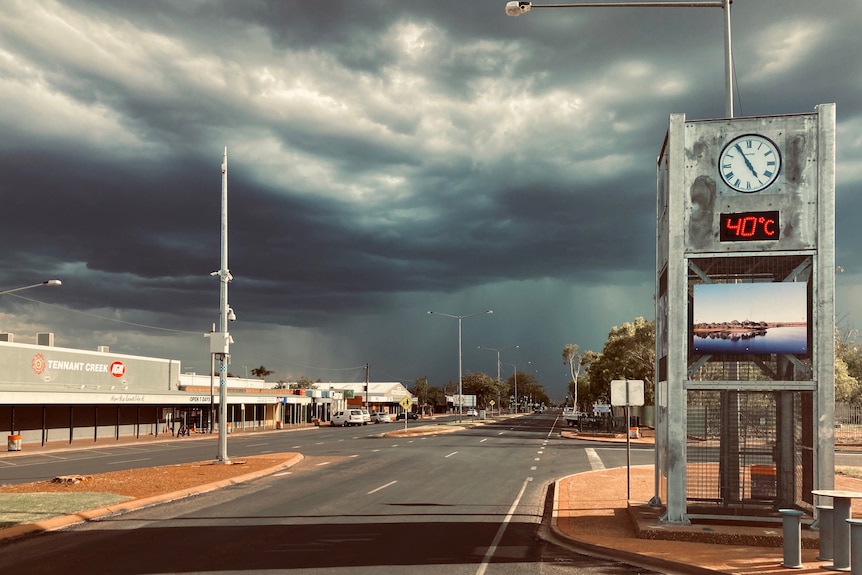 Ms Fyles also said there had been good testing rates in recent days in Nhulunbuy, where wastewater tested positive for COVID on Saturday but that, so far, all results had come back negative.
There are currently 20 people in NT hospitals, but Ms Fyles said only four of those had been admitted for clinical care.
There are no cases in intensive care.
Ms Fyles said she understood the increasing case numbers "can appear to be frightening" but that the NT was prepared.
"We have got strong rates of vaccination across the Northern Territory and we have other public health measures which we can call on."
She said health officials had not recommended any further measures at this stage.
Government defends ongoing PCR testing requirement
Most of Australia's states and territories have seen their testing systems overwhelmed by demand for pre-departure PCR testing over the past few weeks, leading some states to switch to rapid antigen tests or to stop requiring pre-departure tests altogether.
Ms Fyles said the Northern Territory government would continue to require incoming interstate travellers to get a PCR test for now, but could review that if it the evidence supported a change.
"The [Chief Health Officer] has provided commentary that we may change into the future, but we haven't got that evidence for the Territory situation — the Territory's vulnerabilities — with COVID just yet," she said.
Chief Health Officer Hugh Heggie said the NT's vulnerable population meant the better accuracy offered by PCR tests was an important consideration.
"We are in a different environment," Dr Heggie said.
"We have got much lower rates of vaccination in the community.
"I make no apologies. We have a younger population, and we've got to get young people vaccinated, because they can transmit the virus."
He said the number of people seeking PCR tests to come to the NT was having a "minuscule" impact on interstate testing clinics compared with other jurisdictions.
Further health measures flagged
In the past few days, health experts and Aboriginal groups have been calling for a mask mandate to be brought in across the Northern Territory, to combat the spread of the Omicron variant after the Territory reopened its borders.
While no new public health measures have been introduced at this stage, Dr Heggie warned Territorians that it was only a matter of time before some measures, including mask-wearing, were introduced.
"In the coming days you will expect to see public health measures that are designed to minimise risk. They have to be based on evidence and science and the virus and epidemiology, [and] they have to be location specific, and where the highest risk is," Dr Heggie said.
"So, for instance, you're likely to see mask-wearing in rideshares, taxis and public transport, [and] there'll be events in the future or locations where mask-wearing will be mandated, and that's important.
"We're going to have to lead with this, but we are trying rather to monitor the outbreak and, as you've heard the minister say, we adjust the controls very quickly depending on what the evidence is showing us."
He encouraged people to masks while out in public, in crowded areas.
Dr Heggie also said Territorians must accept that the Omicron variant would spread throughout the community, and urged people to take responsibility for their own health.
"It's about personal behaviours, personal responsibility [and] responsibility of venues and what they require," he said.
"So this has to be a partnership going forward and again, we are going to see this.
New testing facility opens in Darwin
From tomorrow, the centre of COVID-19 testing in Darwin will move from Marrara to a new facility in East Arm.
Ms Fyles said the multiple lanes and large undercover area available at the new clinic would allow health workers to test more people, and in all weather conditions.
"This new East Arm facility is a part of the Northern Territory's plan stepping forward," she said.
"The Marrara facility has served us well, and it could again be stood up if we need surge capacity.
"But this is a more permanent testing facility, as we learn to live with COVID."
Ms Fyles said anyone with an appointment at the Marrara clinic from tomorrow would be contacted about the change.
Across the Northern Territory, 1,600 people were tested for COVID-19 yesterday.
Ms Fyles said health authorities expected that number to rise over coming days.
Source: Three new COVID cases of unknown origin 'under investigation', as Northern Territory government defends continued use of PCR tests – ABC News