Victoria Records 905 New Local COVID-19 Cases And Four Deaths
Posted On November 14, 2021
Victoria has recorded 905 new local COVID-19 cases and four deaths of people aged in their 40s, 70s and 80s.
There are now 17,302 active cases of the virus, and 411 people have died during the current Delta outbreak in the state.
There are 394 people in hospital in Victoria with COVID-19, of whom 75 are in intensive care and 46 are on a ventilator.
The health department said a further 72 people are in intensive care but their COVID-19 infections are no longer active.
The new cases were identified from 64,218 test results received yesterday.
There were 8,498 doses of vaccine administered at state-run sites yesterday, and more vaccinations at GP clinics and other venues.
Victoria has now fully vaccinated 87 per cent of its 12+ population.
Restrictions are set to ease considerably when Victoria has fully vaccinated 90 per cent of its 12+ population, which is due to happen by November 24.
When the 90 per cent vaccination threshold is reached, there will be no limits on outdoor or indoor gatherings, masks will not be required except in high-risk settings, and on-site work can resume for anyone fully vaccinated.
Events may also proceed with no attendee caps or density limits for the fully vaccinated.
State opposition to move amendments to pandemic bill
The Andrews government's controversial pandemic bill is set to be debated in the Victorian parliament's upper house in the next week, with the opposition to table "a whole series" of amendments.
Speaking at a public forum in Boronia, Victorian Opposition Leader Matthew Guy said his party would continue to push for changes to the bill.
"If the pandemic and lockdowns are supposedly over as the government says, why are they rushing into parliament legislation to make it easier to lock us down again?" he said.
"What we want to do is give our state confidence, because the people who put us in these lockdowns and will put us in lockdowns again are not the people to get us out of this mess."
Thousands of demonstrators gathered in Melbourne's CBD yesterday to protest against the bill, which passed the parliament's lower house last week.
Police said despite the significant numbers in attendance, the protest was peaceful and no arrests were made.
Federal Labor MP Andrew Giles expressed concern at the presence of mock gallows and nooses carried by some protesters.
Funding announced for live music return
The Victorian government has announced it is allocating $20 million to support the return of live music in Victoria.
Music venues will be able to tap into an $8 million fund to recruit and train new staff.
Music festivals can access $8 million to cover the costs of rescheduled or cancelled events, and $4 million will be spent bringing live performances to Melbourne's CBD and inner-city.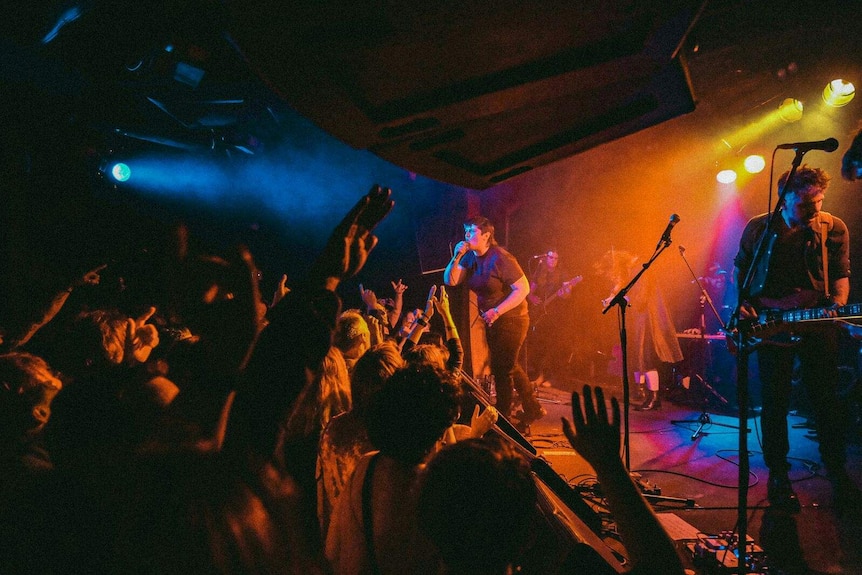 The Victorian government has also announced an event interruption insurance scheme for event organisers.
"The last 20 months have been incredibly difficult and challenging for the live music sector, but that's changing," Creative Industries Minister Danny Pearson said.
"Live music is coming back with a vengeance and it's a really exciting time."
Simon Thewlis from Save Victorian Events welcomed the announcement but said there was a need for a national rollout.
"Not being able to insure against the risks of cancellation due to COVID has been a key thing holding people back from organising events — as a last-minute cancellation of an event can be financially devastating," Mr Thewlis said.
"We know we will be living with the risks of COVID for years to come and that commercial insurers are very unlikely to cover COVID risks for the foreseeable future. So government-backed COVID cancel insurance will be the only insurance available for the foreseeable future."
However, he said the event industry was a national industry.
"Most Victorian event companies work all around Australia," Mr Thewlis said.
"So there is a real need for COVID cancel event insurance right around the country. But it is good that Victoria is leading on this."
Source: https://www.abc.net.au/news/2021-11-14/victoria-records-more-local-covid-cases-and-deaths/100618912