Health Secretary Admits 'Absolutely' A Risk of Covid Spike After COP26
Posted On October 24, 2021
Scotland's health secretary says there is "absolutely a risk" of Covid cases rising after the COP26 summit in Glasgow.
Humza Yousaf said he expects to see a spike in cases after 25,000 delegates descend on the city in a week's time.
Mr Yousaf said the Scottish government was not currently considering imposing more restrictions.
He also stressed that there were many mitigations in place to prevent Covid being transmitted at the conference.
Speaking on BBC One's The Sunday Show Mr Yousaf said that the Scottish government was doing everything it could to limit transmission of the virus during the 12 days of the summit.
He said: "We have been working with the UK government and the United Nations (UN) to make COP as safe as we possibly can.
"Mitigations like daily testing in the blue zone, very strict isolation protocols in place, face coverings being worn in the blue zone and so on. We will do everything we possibly can to make the event because we recognise the climate emergency itself is the biggest public health emergency and crisis that we face globally."
He said: "There is no public health expert in the world who would say there is no risk in the midst of a global pandemic to have tens of thousand of people descending onto largely one city so there is absolutely a risk of Covid cases rising thereafter but we will do everything we can to mitigate that.
"Of course we would expect there to be positive cases linked to COP but we are also very, very assured by the protocols we have got in place to be able to isolate those cases as best as we possibly can."
The UK government has insisted every measure is being taken to mitigate risk.
COP President Alok Sharma told BBC Scotland's No Hot Air podcast: "People want to know we are taking every measure to ensure that COP26 is safe for the participants and also, really importantly, for the people of Glasgow. That is why we have a detailed regime in terms of safety.
"People will be tested every day before they come into the venue. If they are found to be positive they will have to self-isolate.
"They will be wearing masks moving around the venue, we will have rigorous cleaning regimes in place and social distancing.
"We also made an offer to any accredited delegate who wasn't able to get vaccinated in their home nation to say we would support them in that vaccination process."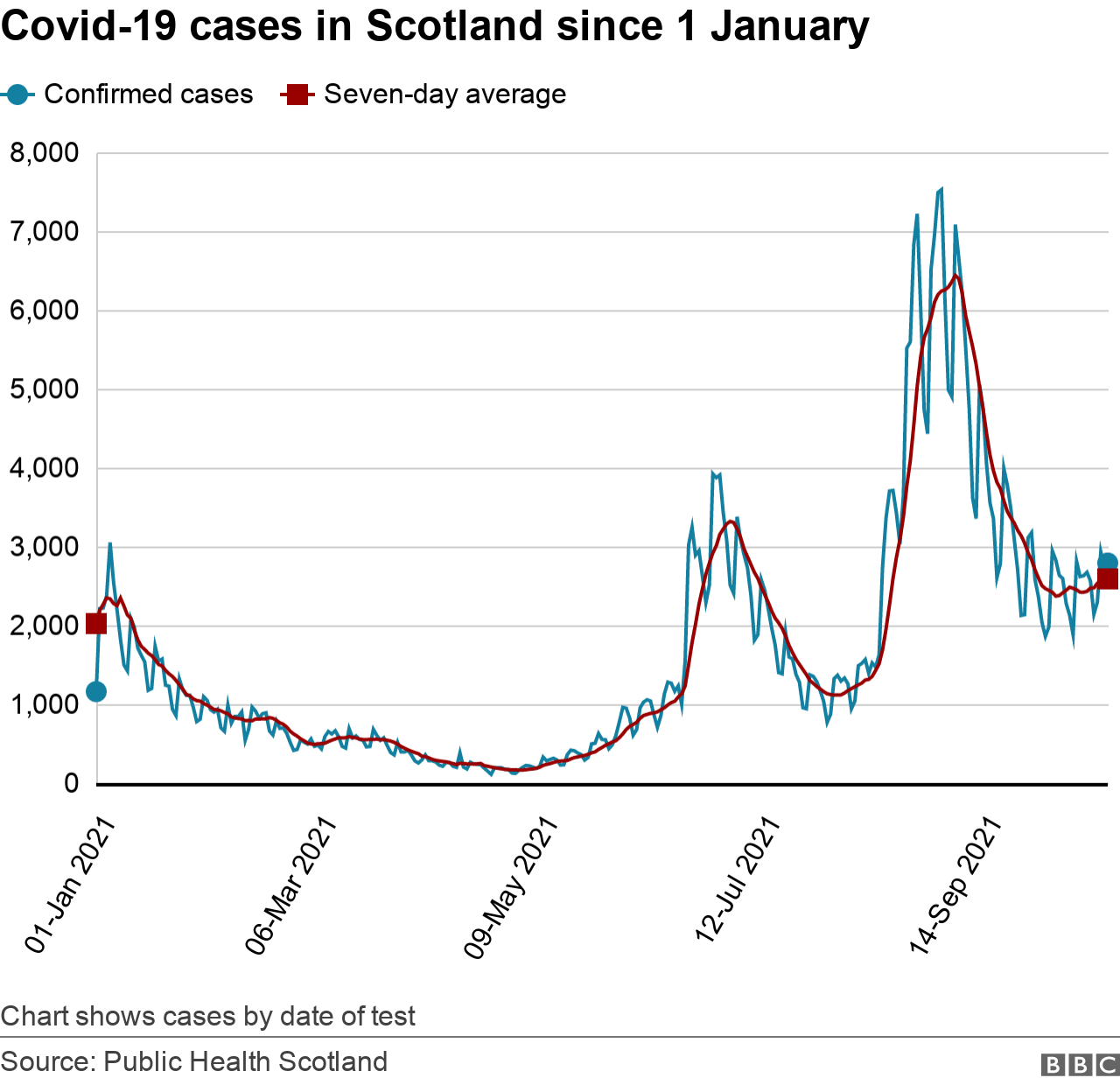 Cases in Scotland were on the rise throughout the summer as coronavirus restrictions were relaxed, but began to fall in September as the vaccination programme reached its end with young people included, but the drop has levelled off, with cases in October rarely falling below 2,000 per day.
Experts, including government adviser Prof Devi Sridhar, have raised concerns over a potential increase in cases associated with so many people being in a relatively small area.
Responding to a tweet from a member of the public last week, Prof Sridhar said: "I could be wrong (and hope I am) but yes. A mass event with major movement of people in and out with an infectious virus will cause an increase in cases.
"While in the case of Covid will put stress on limited health services. Which triggers need for further restrictions."
The BBC is not responsible for the content of external sites.
The health secretary said that the Scottish government was not actively considering bringing back restrictions.
But he did not rule out any measures later in the year. He said restrictions would continue to be reviewed every three weeks but said it would be "foolish" to pretend he knew what was going to happen in two or three months' time.
Mr Yousaf admitted he was concerned about the months ahead.
"We can't get away from the fact that this will be the most challenging winter in the NHS's 73-year existence and this is the case across the entire UK," he said.
Scottish Labour's deputy leader Jackie Baillie called for more action ahead of the summit and before winter pressures increase.
She said: "The health secretary simply had no answers to the potential impact of COP26 on our NHS.
"We are looking down the barrel at a winter of extreme pressure on our NHS and potentially surging levels of Covid.
"We need action from the health secretary to avoid this, not warm words."
'Protect NHS capacity'
Scottish Conservative MSP Dr Sandesh Gulhane said that Mr Yousaf was "unable to provide any confidence that our NHS is prepared" as delegates started to arrive for COP26.
He said: "This event is unlike anything that Scotland has previously hosted, and under the backdrop of Covid there needs to be reassurance that every mitigation is being taken, so health services are not overwhelmed by a surge in cases.
"The minster needs to focus on stepping up testing and the booster programme to protect capacity within our NHS and those most vulnerable.
"Humza Yousaf needs to take action if the SNP are serious about managing the potential impact COP26 could have on our NHS."
Mr Yousaf also strongly denied claims that Scotland's Covid-19 booster vaccine programme was lagging behind.
He said the rollout started as soon as the Joint Committee on Vaccine and Immunisation (JCVI) had authorised the move.
"I completely reject the suggestion the booster programme is failing. We are on track to meet the targets I laid out to parliament previously.
"Groups 1-4, the JCVI priority groups, we are confident of getting vaccinated by mid November. Then groups 5-9 in the months thereafter and absolutely by early next year. Those aged 60-69 can expect letters to be received very soon."