Covid Passes: Ministers Consider Widening Use in Wales
Posted On October 24, 2021
Welsh ministers are set to consider whether to extend the use of Covid passes for a wider range of venues.
The health minister said the government would be "thinking about" the change because they are "hugely" concerned about the high levels of Covid-19.
The move is being considered after compulsory NHS Covid passes were introduced for people to legally attend big events or nightclubs in Wales.
Plaid Cymru wants rules tightened. The Tories are against more restrictions.
Wales' Covid-19 case rate is the highest of all the UK nations.
Speaking on the BBC Politics Wales programme, Health Minister Eluned Morgan said the high levels of transmission were putting pressure on public services.
"People are having to take time off to deal with coronavirus because they may get sick, it's putting pressure on the health service because some of our staff are also suffering," she said.
The Welsh government will review the Covid-19 rules this coming week ahead of an announcement on Friday.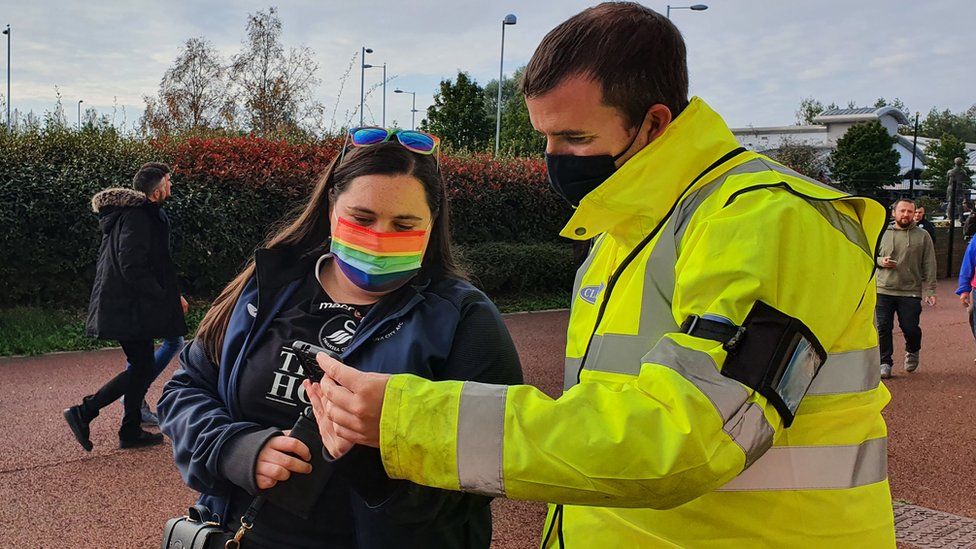 Ms Morgan said ministers would be looking to "see how we can absolutely make the most out of the measures that we already have in place".
"Is there any more we can do, for example, around working from home," she said.
"Is there more we can do to make sure that people do actually wear their face coverings in public places indoors, and we'll be seeing if it may be necessary to roll out the vaccine passports [Covid passes] to other situations."
How many Covid cases are there in Wales?
Covid-19 cases rates have risen to a new high in Wales, according to latest data.
However, unlike the previous peaks, more asymptomatic people are being tested.
There are 716.9 cases per 100,000 people, up from 681.9 cases on Thursday, the highest previously recorded.
Public Health Wales' (PHW) figures also show there have been a further 12 deaths with Covid, taking the total to 6,086.
The data published on Sunday, which covers the 24-hour period to 09:00 on Friday, also showed a further 3,152 new positive cases, taking the total positive tests in Wales to 418,980.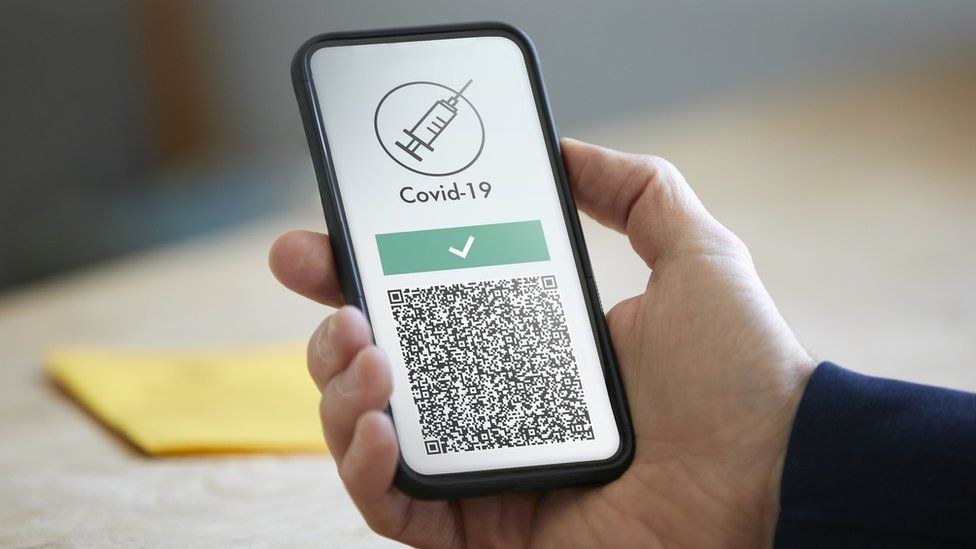 Covid passes show people have either tested negative on a lateral flow test, were fully vaccinated against Covid or have had confirmation of a positive test within the last six months which has been followed by the appropriate period of isolation. They are currently compulsory for over-18s to enter:
Nightclubs or similar venues
Indoor no-seating events with more than 500 people
Outdoor no-seating events with more than 4,000 people
Any event with more than 10,000 people, including sport
PHW has started publishing data on the rollout of the vaccine booster programme, with 61% of NHS staff and 58.1% of care home workers having received a third jab.
The health minister said the booster rollout was "going according to schedule but we are seeing if there's anything we can do to increase the pace on that".
What has the political reaction been?
Plaid Cymru's health spokesman Rhun ap Iorwerth said: "I can't overstate how concerned I am about the high case rates that we are currently seeing in Wales.
"I criticised government last week for saying that the situation is stable; this is sky-high case numbers and we need to make sure that everything possible is being done to, yes, tighten things up going into the winter.
"I'm not talking about wide-scale lockdowns, nobody wants that, but we need to be looking at anything that can be done within schools on ventilation, on CO2 monitor rollout, on mask wearing."
Russell George MS, the Welsh Conservatives' health spokesman, said: "We don't want to be in a place where we're talking about further restrictions on our lives.
"I think we now need to be in a position where we need to all be thinking about keeping safe ourselves and using sensible measures."