Covid-19: US Airlines Defy Texas Order to Stop Mandatory Jabs
Posted On October 13, 2021
Two major US airlines have said they will not comply with an order from the Texas governor that bans companies from enforcing Covid-19 vaccinations.
American Airlines and Southwest Airlines, which are both based in Texas, will still require all their employees to get the jabs.
Last month, President Joe Biden said that staff of large companies must get vaccinated or face weekly testing.
But Texas Governor Greg Abbott said vaccinations should "remain voluntary".
On Tuesday, Mr Abbott, who is a strong opponent of making Covid-19 jabs mandatory, issued an executive order banning all organisations, including private companies, from enforcing vaccinations in the state.
But American and Southwest Airlines have said they will stick with the federal order made by the president.
American Airlines told Bloomberg: "We believe the federal vaccine mandate supersedes any conflicting state laws, and this does not change anything for American."
Similarly, Southwest said it "would be expected to comply with the president's order to remain compliant as a federal contractor."
The companies are in a complicated situation because they have contracts with the federal government to transport employees and goods, but their headquarters are in Texas.
Under Joe Biden's sweeping changes, staff of all companies with more than 100 workers must be vaccinated by 8 December or agree to have regular tests, if they want to keep their jobs. There are limited exceptions.
Southwest CEO Gary Kelly told CNBC that it was about keeping people safe and employed.
"I've never been in favour of corporations imposing that kind of a mandate," he said.
"The objective here, obviously, is to improve health and safety, not for people to lose their jobs," Mr Kelly added.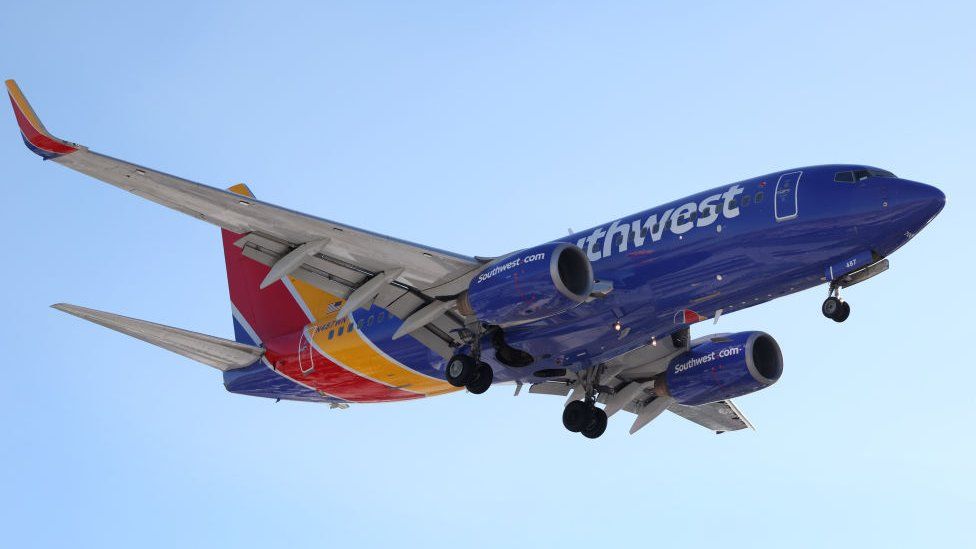 When the changes were first announced by the president, both airlines said they would comply, and offered incentives such as extra pay for staff to get the shots.
American Airlines, the country's largest carrier, employs more than 130,500 people.
Southwest Airlines, which is the fourth largest airline in the US, employs 54,000 staff.
A business group based in Texas, the Greater Houston Partnership, which counts ExxonMobil, Chevron and J.P. Morgan as its members, has also said it will continue supporting the right of businesses to require staff to be vaccinated.
"The governor's executive order does not support Texas businesses' ability and duty to create a safe workplace," it said in a statement.
"While the courts will likely decide the validity of this order, we encourage all employers to continue to promote the importance of vaccinations with their employees."