Couple Separated for 20 Months by Pandemic Reunited at Heathrow
Posted On October 10, 2021
A long-distance couple separated by pandemic travel rules for 20 months have been reunited at Heathrow Airport ahead of their wedding.
Australian Chris Quealy, 72, was given dispensation to leave Australia, after he proposed to Penny Steven, 69, from Buckinghamshire, over Zoom this year.
Since March 2020, Australia has banned its citizens from leaving the country as part of its Covid strategy.
"I didn't think [this day] would ever, ever come," said Penny.
Mum-of-four Penny met grandfather Chris, who is from the Gold Coast, in May 2015, during a solo trip to walk the Camino de Santiago in Spain.
The couple regularly travelled the 10,000 or so miles between their homes, with Penny returning to Amersham from her last visit to Australia on 3 February 2020.
Chris was supposed to follow – but lockdown hit in March.
In August this year, the Australian government granted Chris a travel exemption so the couple could get married in England.
Penny said it had been a "very tough" time for the couple, who had been having twice-daily phone conversations.
"It has made us stronger," she said.
The couple had to book a wedding and apply for a UK marriage visa before Chris could book his flight and the couple reunited at Heathrow on Friday.
They are due to marry in January in Buckinghamshire.
Speaking at the airport after Chris's 30 hours in the air, she said: "It's been such a long time, but we've stuck it out.
"He's actually on the same ground as I am and it's a wonderful, wonderful feeling.
"It's so lovely to have him here, I can't believe it, at last I'm happy – we can get married now."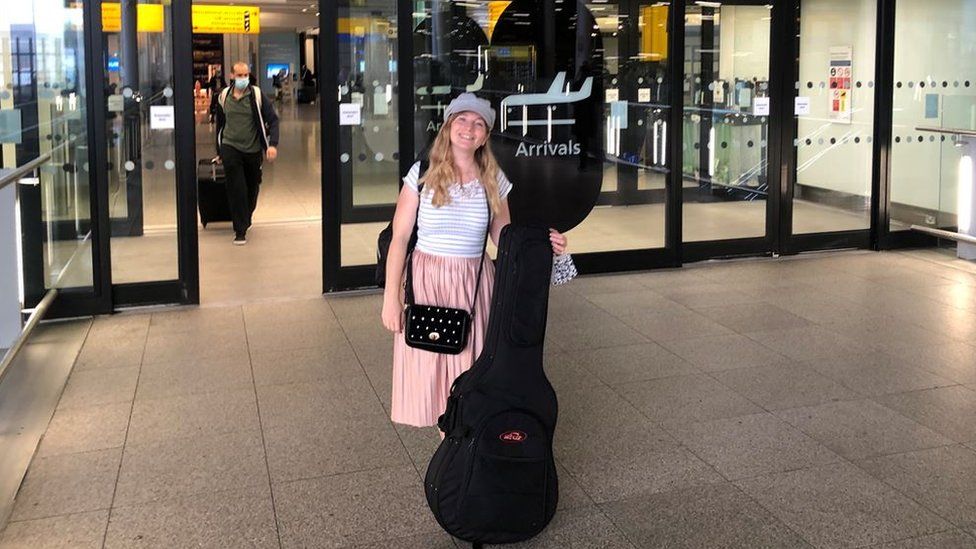 BBC Three Counties Radio presenter Justin Dealey arranged for singer Charlotte Campbell to serenade the couple with their favourite song, The Beatles' And I Love Her, when Chris arrived in the country."
Chris said it was "unbelievable" to be in the UK.
"The journey has been a long one, that's for sure," he said.
Australia's tough travel rules have been controversial – but the government has said its measures were aimed to reducing the risk of spreading the coronavirus.