Shock at Swabs and Detritus Left in NEC Covid Test Room
Posted On October 6, 2021
Swabs and other detritus littered a room where people were sent to carry out tests for Covid-19.
One woman, who had to carry out a test before attending a Sylvester Stallone Q&A event, said conditions were disgusting.
Rachel Williams photographed the room at Birmingham's NEC on Sunday.
The NEC said the conditions were "unacceptable" and apologised and said steps had been taken to remedy the situation.
Ms Williams, from Coventry, arrived at the event and was told she needed to provide evidence of a negative lateral flow test.
She was given a kit by security staff and directed to a portacabin at the site in Marston Green.
"That was fine, I understand that but when I got in there you can see how messy it was," she said.
"You have to put the swab up your nose, and the stick things were everywhere – how do you know you're not going to catch anything from in there?"
After posting the pictures on Facebook, she said, people commented that those using the room should have tidied up after themselves but Ms Williams said she felt it should have been better supervised or monitored.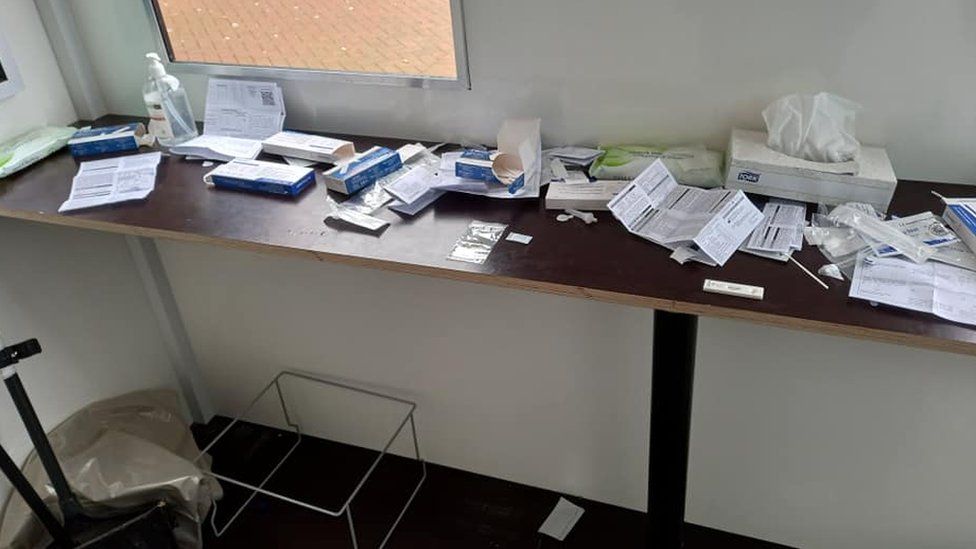 "There were thousands of people [at the event]. I don't know how many people prior to me had used it," she said.
"I just thought it was shocking."
NEC said it had over 900 visitors arrived for the event "over a short period" with no proof of negative status and were offered the option of taking a lateral flow test rather than being turned away.
However, it said, conditions in the cabin were "unacceptable" and apologised to Ms Williams.
Steps have been taken to make sure the situation is not repeated, it said.