Covid Rates in Young People in Wales Fall, Stats Show
Posted On October 6, 2021
Covid case rates in young people in Wales have fallen dramatically, Public Health Wales figures show.
Among under-25s they have dropped in 20 of Wales' 22 council areas, including big falls in Neath Port Talbot and the south Wales valleys.
The rate among under-25s fell by 61% over the past week in Merthyr Tydfil and 43% in Rhondda Cynon Taf.
Carmarthenshire now has the highest case rate in this age group – 1,217.9 cases per 100,000 people.
That is 639 positive tests in the county in the past week, or 57% of all cases.
Only Denbighshire and Pembrokeshire have seen rises in under-25 case rates, but these have been small.
In Neath Port Talbot, which had the highest rate in Wales for the previous two weeks, it has fallen by 35%.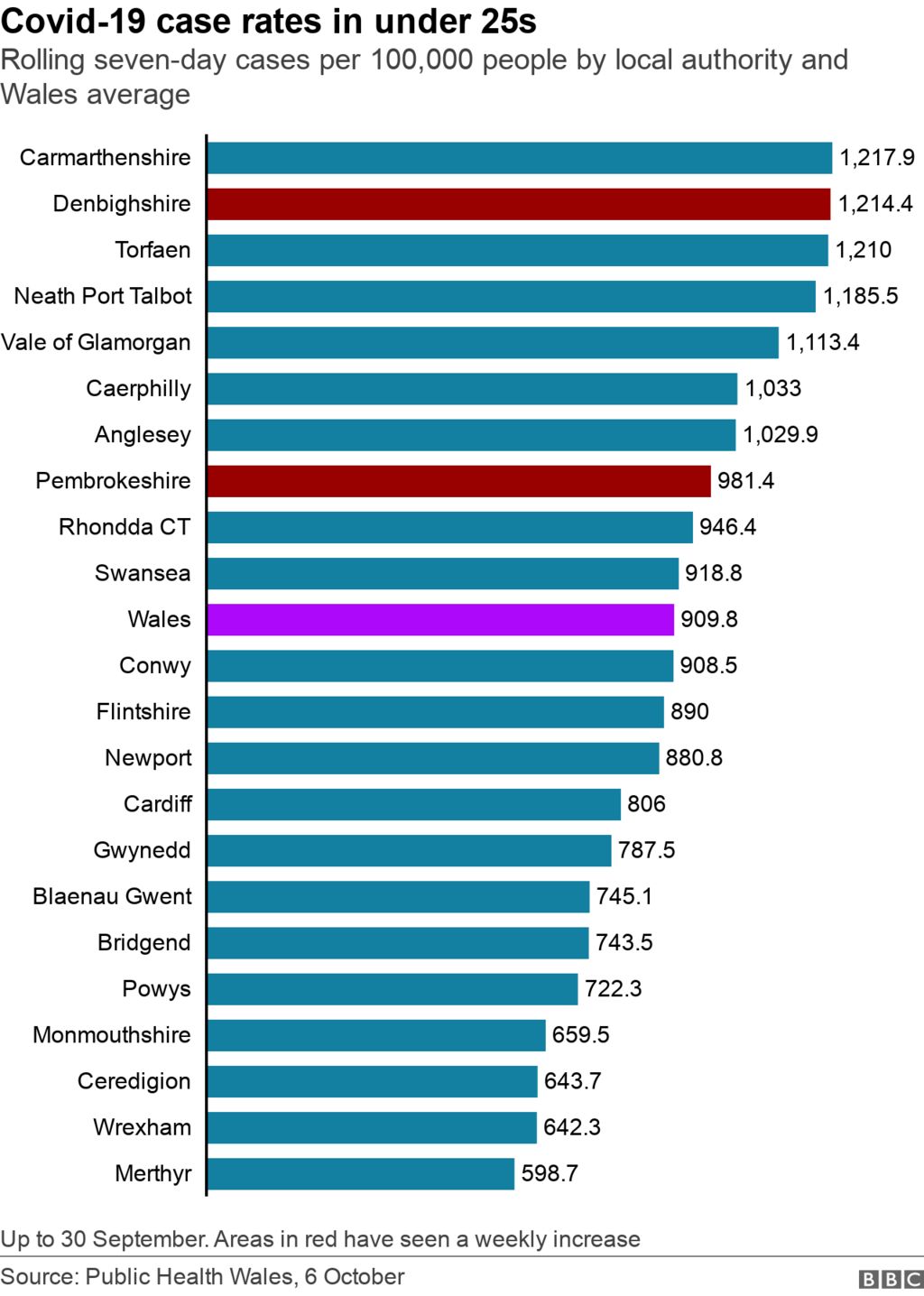 The recent rise in Wales' case rate was largely due to a rise in cases among under-25s, with a particular spike among 12 to 16-year-olds.
PHW's figures show about 6,000 people positive tested in the week to 30 September in the 10-19 age group, far higher than in any other age group, the next being just over 2,000 for those in their 40s.
But the numbers also show how the spike in the under-16s is now over and cases have fallen.
Latest daily figures show 47% of positive tests were in under-19s and 54% were under-30s.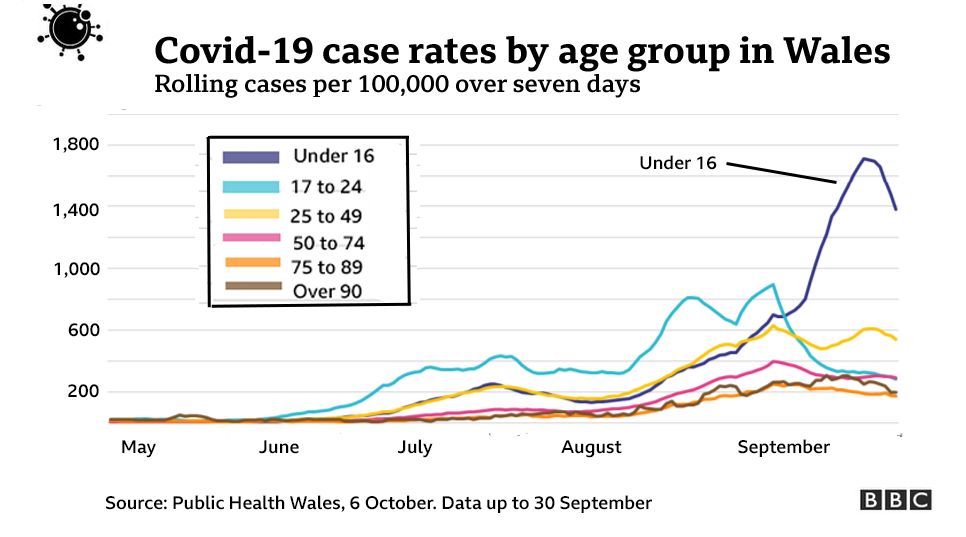 The overall case rate in Wales has been dropping for the past eight days and now stands at 507.3 cases per 100,000.
The biggest falls in local authority areas reflect falls in under-25 cases in those places.
Average daily cases have dropped to 2,285 positive tests a day, compared to 2,929 a week ago.
Other PHW figures out on Wednesday showed there had been a record number of tests processed in the past two weeks.
This has been partly generated by record numbers of positive lateral flow tests connected with those returning to work, school and going to events, which then lead to follow-up PCR testing.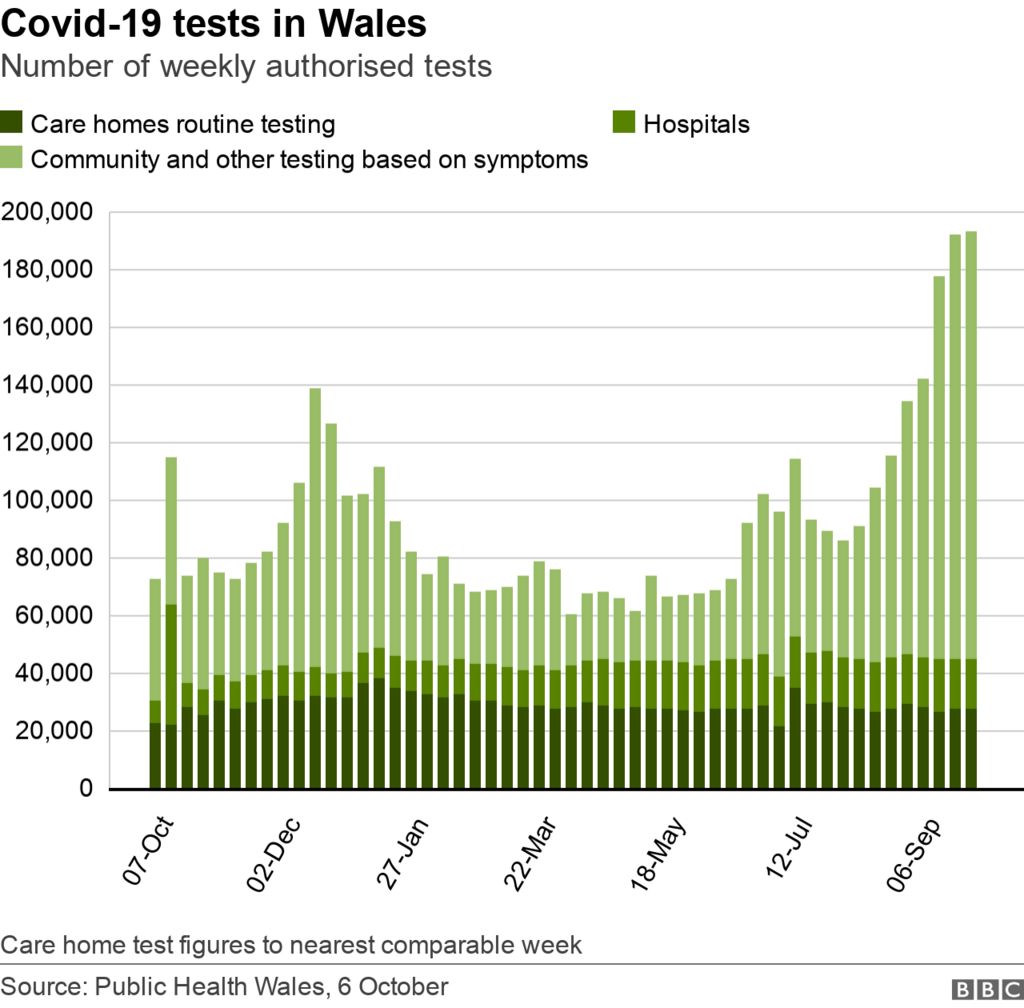 PHW also reported eight further deaths, including three in Hywel Dda and two each in Cwm Taf Morgannwg and Swansea Bay health boards.
The deaths occurred on days going back to last Thursday.
Over the week to 4 October, there have been 45 deaths, an average of six deaths a day (6.4).
The average number of confirmed Covid patients in hospital is down to 429, compared to 444 a week ago.
There were 47 people in critical care on Tuesday, within the range seen over the past month.