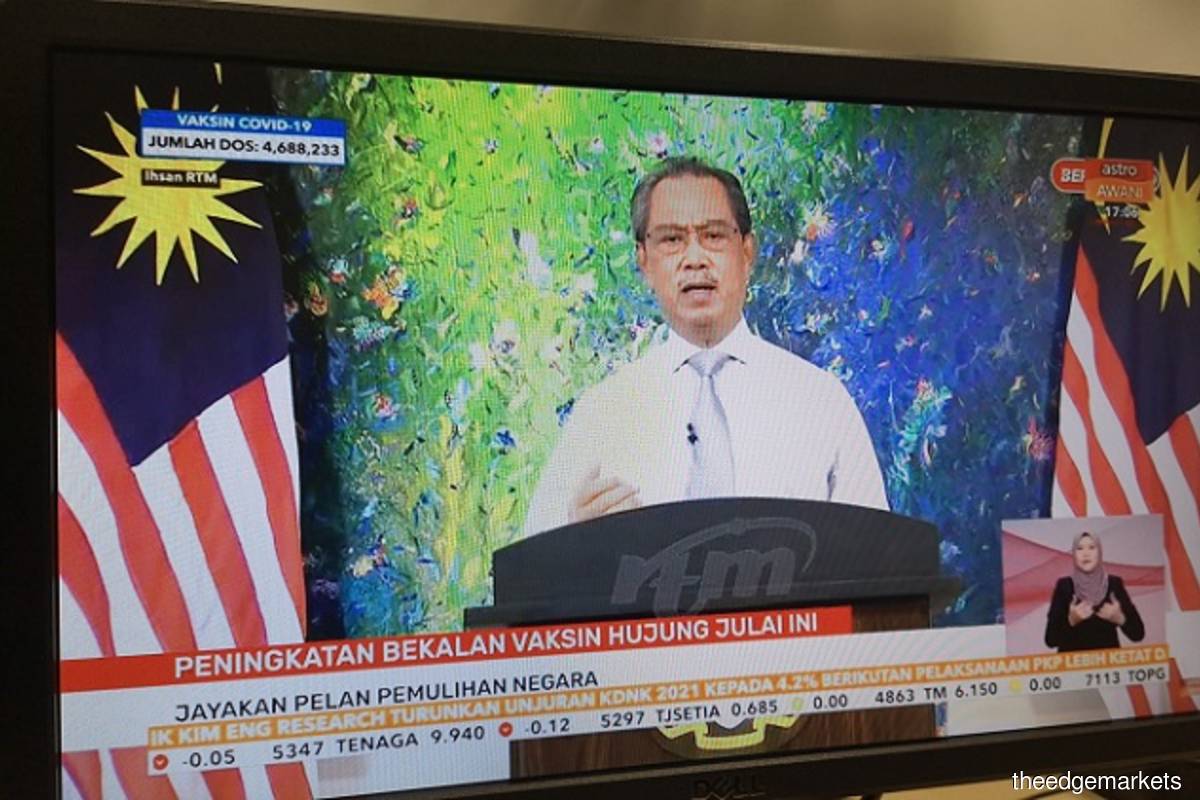 KUALA LUMPUR (Aug 8): Prime Minister Tan Sri Muhyiddin Yassin today announced several easing restrictions from Aug 10 (coming Tuesday) for people who have been fully vaccinated against Covid-19.
Muhyiddin told the public that relaxation of rules in the economic sector would be discussed by the National Security Council and will be announced soon.
Fully vaccinated individuals are defined as someone who has received two doses of Covid-19 vaccines for more than 14 days. These vaccines are Pfizer, AstraZeneca and Sinovac vaccines.
Individuals who receive single-dose vaccines such as Johnson & Johnson (J&J) and Cansino would be considered fully inoculated 28 days after they have received the jab.
If you are vaccinated, you are allowed to do the followings in all states:
Malaysians or non-Malaysians with residences in the country may quarantine themselves at home when returning from abroad. They will be given a digital Home Surveillance Order (HSO);
Long-distance married couples are allowed to do inter-district and inter-state travelling to meet their spouses;
Parents are permitted to travel inter-district or inter-state to see their children aged under 18 years old;
To pray in mosques and suraus. Individuals are required to show digital vaccination certificates before entering, while non-muslims are allowed to pray in their respective places of worship.
More activities are permitted for fully inoculated individuals living in states that have moved to Phase 2 or Phase 3 of NPR. They are allowed to :-
travel inter-district. However, individuals are required to show their Covid-19 vaccination digital certificate to authorities at roadblocks to prove they have been fully inoculated;
dine in at eateries. However, Muhyiddin advised the public to only dine-in when necessary and not spend too much time at the eatery.
partake in outdoor recreational and sporting activities that do not involve physical contact from 6am to 10pm. Permitted activities include jogging, cycling, skateboarding, fishing, equestrian events, single tennis and badminton;
travel within the state for holidays. Hotels and homestays are permitted to reopen.
States that are in Phase 2 of NPR are Kelantan, Terengganu, Pahang, Perak, Penang and Sabah, while those in Phase Three are Perlis, Labuan and Perak.
The Klang Valley, Johor, Negeri Sembilan, Kedah and Melaka are states that are still in Phase One currently. Hence, dining activities are not permitted for now. Likewise, outdoor activities and intra-state vacations are not allowed as well for now.
Source: https://www.theedgemarkets.com/article/government-efforts-ramp-covid19-vaccination-have-shown-encouraging-results-says-pm-muhyiddin