Covid-19 (April 5): 1,070 new cases, Johor reports lowest number since Dec
Posted On April 6, 2021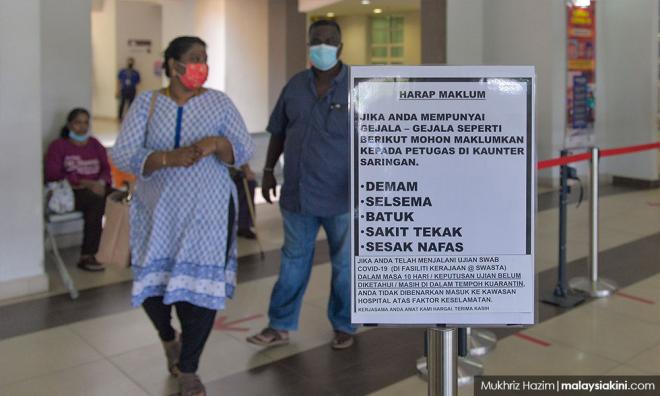 COVID-19 | The Health Ministry today reported 1,070 new cases with Johor reporting its lowest number since mid-December last year.
Malaysian citizens were overwhelming the largest number of new cases (84.5 percent).
Most of the new cases were in the Klang Valley (39.5 percent), followed by East Malaysia (28.7 percent).
Active cases: 14,278
Patients in ICUs: 180
Intubated: 89
States
Selangor recorded the highest number of new cases (327). Notably, close to 1 in 4 of the new cases in Selangor were detected through "other screenings" that are not linked to clusters or close contacts.
The second highest number of new cases was reported in Sarawak (225), followed by Penang (133) and Kuala Lumpur (88).
At the national level, the R-naught level was 1.01 as of yesterday.
A R-naught number of 1 indicated that the spread of Covid-19 was stable and a number of less than one indicated that the spread was reducing.
As of yesterday, the regions with a number of more than 1 were Sabah, Kelantan, Malacca, Labuan, Putrajaya, Pahang, Perak and Sarawak.
Deaths
There were seven new Covid-19 deaths reported today. The national death toll stood at 1,295.  The deaths were reported in Selangor (4), Sabah (2) and Johor (1). The victims age was between 46 and 86.  Details of the victims are documented in Malaysiakini's Covid-19 tracker site.
Clusters
The Health Ministry reported that there were 355 active Covid-19 clusters in the country, down from 488 a month prior. There are 48 clusters that reported new cases today.
There three most active clusters are Jalan Jelawat (34, Penang; Perak),  Kampung Binyu (34, Sarawak) and Pulau Enoe (14, Labuan).
There were six new clusters classified by the Health Ministry today, including another "educational institution".
It is uncertain if this was included in the tally of new "educational institution" clusters announced by Health Minister Dr Adham Baba this morning. All educational institutions resumed in-class lessons early March.
Taman Komersial cluster
District(s): Hulu Langat in Selangor
Locality/Source: A factory at Jalan 6/5 Pandan Indah Commercial Centre, Taman Komersial, Hulu Langat
Cluster category: Workplace
First case: March 26, targeted screening
Total infected: 14 out of 23 screened
Lorong Dua cluster
District(s): Petaling and Kuala Selangor in Selangor
Locality/Source: A factory at Lorong 2B, Jalan TUDM, Kampung Subang Baru, Shah Alam
Cluster category: Workplace
First case: March 30, targeted screening
Total infected: 41 out of 332 screened
Jalan Inovasi cluster
District(s): Cheras and Titiwangsa in Kuala Lumpur;Putrajaya in Putrajaya
Locality/Source: kafetaria near dengan Jalan Inovasi, Kuala Lumpur
Cluster category: Workplace
First case: March 29, index case is a close contact of Covid-19 positive patient
Total infected: 14 out of 49 screened
Jalan Mata Kuching cluster
District(s): Malacca Tengah in Malacca
Locality/Source: An education institution at Jalan Taming Sari, Mata Kuching Dalam, Melaka Tengah
Cluster category: Workplace
First case: March 20,  pre-medical procedure screening
Total infected: 16 out of 67 screened
Persiaran Utama cluster
District(s): Seremban in Negeri Sembilan
Locality/Source: A service provider at Persiaran Utama S2, Garden Homes, Seremban
Cluster category: Workplace
First case: April 3, targeted screening
Total infected: 18 out of 90 screened
Bukit Sera cluster
District(s): Kuala Muda in Kedah
Locality/Source: Social event at Kampung Bukit Sera, Batu 2, Jalan Kuala Ketil, Sungai Petani, Kuala Muda
Cluster category: Community
First case: April 2, index case with symptoms
Total infected: 13 out of 18 screened