Covid-19 (Nov 24): Another Record with 2,188 New Cases
Posted On November 25, 2020
COVID-19 | The Health Ministry has reported 2,188 new Covid-19 cases, marking a record high for the second consecutive day.
The previous record was yesterday's 1,884 new cases.
The spike today was once again caused by the Teratai cluster, which is linked to Top Glove's factories in Klang, Selangor.
Health Ministry director-general Dr Noor Hisham Abdullah said of the 1,623 latest cases in Selangor, 1,511 came from the Teratai cluster.
On the flip side, Noor Hisham also reported 1,673 recoveries.
The latest numbers mean the cumulative Covid-19 cases in the country now stand at 58,847 while cumulative recoveries are at 44,153.
Leading indicators:
Active cases – 14,353 ↑ (511 more than the previous day)
Patients in intensive care – 112 ↓ (3 less than the previous day)
Intubated patients – 49 ↑ (1 more than the previous day)
Deaths – 4 ↑ (2 more than the previous day)
The four new fatalities bring the death toll to 341. Details of the latest deaths are as follows:
Patient 49,461 (Death 338): 84-year-old Malaysian. Died at Penang Hospital. Had a history of high blood pressure and chronic lung disease.
Patient 55,063 (Death 339): 74-year-old Malaysian man. Died at Lahad Datu Hospital in Sabah. No reported pre-existing conditions.
Patient 55,064 (Death 340): 41-year-old Malaysian woman. Died at Lahad Datu Hospital in Sabah. No reported pre-existing conditions.
Patient 54,826 (Death 341): 45-year-old man who is a non-citizen. Died at Tawau Hospital in Sabah. No reported pre-existing conditions.
Breakdown of new cases by states:
Selangor (1,623)
Existing clusters: 1,539
Close contacts: 54
Other screenings: 30
Sabah (232)
Existing clusters: 31
Close contacts: 131
Other screenings: 70
Perak (112)
Existing clusters: 112
Kuala Lumpur (90)
Existing clusters: 82
Other screenings: 8
Negeri Sembilan (73)
Existing clusters: 71
Other screenings: 2
Johor (19)
Existing clusters: 5
Close contacts: 9
Other screenings: 5
Penang (15)
Existing clusters: 10
Close contacts: 1
Other screenings: 4
Kedah (14)
Existing clusters: 12
Other screenings: 2
Kelantan (6)
Existing clusters: 2
Other screenings: 4
Malacca (2)
Existing clusters: 2
Labuan (1)
Existing clusters: 1
Sarawak (1)
Other screenings: 1
There were no new reported cases in Putrajaya, Perlis, Terengganu and Pahang.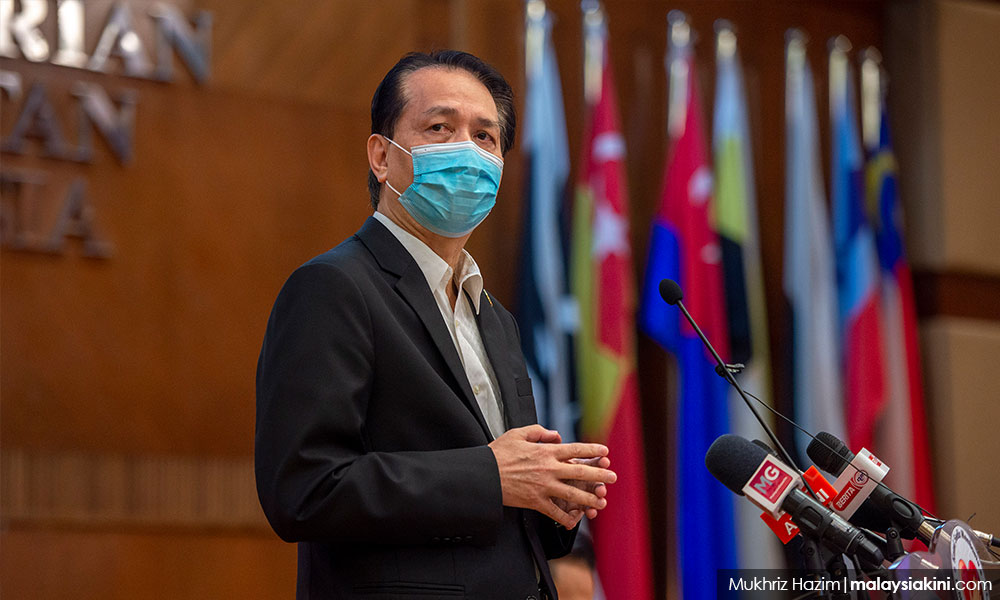 'Success of balance approach depends on employers'
Noor Hisham said the recent spike in the Klang Valley was largely contributed by clusters related to workplaces.
To date, he said there have been 119 clusters involving the workplace with 83 of them still active.
The workplace clusters with the most number of Covid-19 cases are the Teratai cluster (4,036 cases) and Damanlela cluster (1,539) in the Kuala Lumpur and Selangor area.
The Cergas cluster (1,337 cases) spans Selangor, Negeri Sembilan and Kelantan.
"During this third wave of the pandemic, the government is cognisant of the need to balance life and livelihood.
"Therefore, the approach to invoke the conditional movement control order (MCO) and targeted enhanced MCO in certain areas was taken, considering both health and economy.
"However, the success of this strategy requires strong cooperation from employers to ensure their workers always abide by the standard operating procedure (SOP) set by the authorities," he added.
As such, he urged employers, particularly those hiring a large number of foreign workers, to ensure a conducive living environment for them so that it is possible to abide by the SOPs against Covid-19.
"The Health Ministry urges employers to play their important role in helping to combat Covid-19."