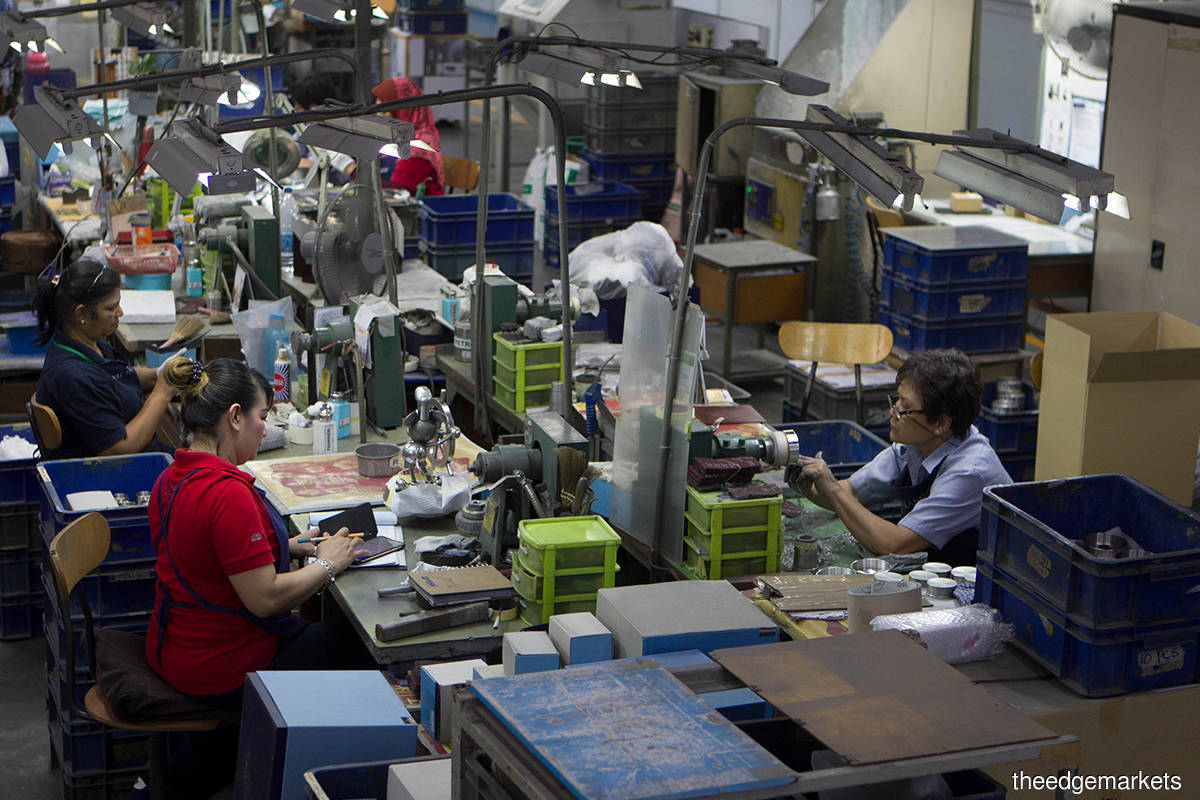 KUALA LUMPUR (Nov 2): Rising Covid-19 case numbers and renewed restrictions to try to prevent its spread stymied the recovery of the Malaysian manufacturing sector during October.
According to IHS Markit, both output and new orders slowed to greater extents than seen in the previous month and business optimism waned.
It said on the price front, the rate of input cost inflation softened despite reports of material shortages leading to higher supplier charges.
Meanwhile, firms increased their own output prices at only a marginal pace.
The headline IHS Markit Malaysia Manufacturing Purchasing Managers' Index (PMI) — a composite single-figure indicator of manufacturing performance — dipped for the fourth successive month in October, down to 48.5 from 49.0 in September.
It said the latest reading signalled a modest deterioration in the health of the sector, albeit one that was much less marked than seen at the height of the pandemic.
IHS Markit said while the historical relationship between the PMI and official data suggests that gross domestic product (GDP) continued to rise at the start of the fourth quarter of the year, manufacturing output looks to be stagnating amid a resurgence of Covid-19 cases.
It said both new orders and production moderated in October, and to greater extents than in September.
It said the extension and reintroduction of restrictions to prevent the spread of Covid-19 were reportedly a key factor behind worsening market demand and the scaling back of production.
IHS Markit said new export orders also fell, and to a greater extent than total new business amid ongoing disruption to international demand caused by the pandemic.
It said weaker new order inflows meant that firms were able to deplete their backlogs of work.
The resulting reduction in outstanding business was the sharpest since December 2018.
A lack of pressure on capacity resulted in a further fall in employment, although the rate of job cuts continued to soften from August's survey record.
IHS Markit said despite falling demand for inputs, manufacturers continued to report supply chain delays.
It said suppliers' delivery times lengthened solidly again at the start of the fourth quarter amid Covid-19 restrictions both in Malaysia and abroad.
IHS Markit chief business economist Chris Williamson said the rebound from the second quarter's economic slump is showing signs of losing momentum as the country heads into the fourth quarter.
He said rising Covid-19 infection rates and worries regarding further lockdown precautions, both at home and in export markets, are hitting order books and denting business confidence.
"Optimism about the year ahead fell sharply in October, and the decline in export sales gathered pace to result in a weakened order book situation.
"Inflationary pressures remain benign despite supply shortages persisting, with companies pricing aggressively to win sales.
" Cost control remained in focus, though it was encouraging to see job losses moderate again during October," he said.
Source: https://www.theedgemarkets.com/article/recovery-manufacturing-sector-hit-covid19-and-faltering-exports