COVID-19 | Minister in the Prime Minister's Department (Religious Affairs) Zulkifli Mohamad Al-Bakri has tested positive for Covid-19.
"I am currently undergoing treatment because I've tested positive for Covid-19 by the Health Ministry.
"Alhamdulillah, up to now I am still in good health," Zulkifli said in a Facebook post today.
He urged those involved in the events he attended between Sept 24 and Oct 4 to get tested for the disease immediately at the nearest health clinic.
According to his previous Facebook posts, Zulkifli was in Tuaran, Sabah on Sept 24 and returned to Kuala Lumpur on the same day.
His activities that day included handing over food parcels to orphans, sampling the local cuisine, and visiting dignitaries such as former Sabah mufti Ismail Abbas, former Sabah governor Sakaran Dandai, and the current Sabah mufti Bungsu @ Aziz Jaafar.
In the following days, he attended events in Kota Bharu (Kelantan); Jerteh and Kuala Terengganu (Terengganu); Putrajaya; Shah Alam, Sepang, Bangi (Selangor); Kuala Lumpur; and Nilai (Negeri Sembilan).
Earlier today, the Dato Klana Petra Mosque, Nilai, announced that it would be closed with immediate effect after a "suspected Covid-19 patient" attended its event yesterday, but would reopen in time for maghrib prayers today following sanitisation works.
A check on Zulkifli's Facebook activities reveals that he had given a sermon at the mosque that day.
On Sept 29, he accompanied Prime Minister Muhyiddin Yassin to attend the Nusantara Syariah Judicial and Legal Conference 2020 in Sepang and was pictured sitting next to the premier.
In a statement, Muhyiddin said he will undergo a 14-day quarantine at home as advised by the Health Ministry, and will use video conferencing to ensure this would not disrupt government business.
He added that as a precaution, he has undergone a Covid-19 test every fortnight since April, in addition to three tests on Sept 22, 26, and 29. Each of these tests had returned a negative result.
Meanwhile, Zulkifli apologised for any mistakes and weaknesses he has made and said the welfare programmes he had arranged will be continued by agencies under his purview.
Separately, Health Ministry director-general Dr Noor Hisham Abdullah said on Oct 3, an individual attended a meeting at the Prime Minister's Department and subsequently tested positive today.
Without naming the individual concerned nor stating his position, he added that the individual did not show symptoms of Covid-19 at the time and has been isolated at a hospital for observation and treatment in accordance with existing protocols.
In addition, Noor Hisham said close contacts of the individual is being identified and will undergo quarantine at home for 14 days from the date when contact occurred.
"In relation to that, all those who attended the meeting has undergone health screening today and samples have been taken for Covid-19 testing.
"Those identified as close contacts at the meeting have been issued a 14-day home surveillance order beginning Oct 3 and are wearing observation wristbands.
"As for other meeting participants who are not close contacts, they are required to monitor their own health at home for 14 days using the home assessment tool in the MySejahtera app," he said in a statement today.
Noor Hisham urged members of the public not to be concerned by the incident and not to speculate.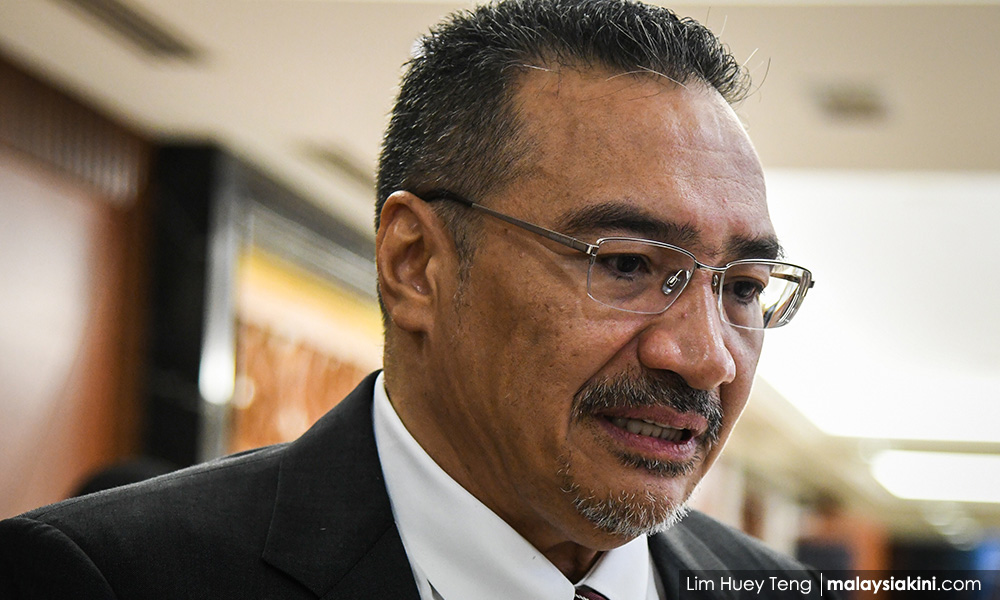 Meanwhile, Foreign Minister Hishammuddin Hussein (photo) said he has been released from home quarantine today.
He was previously quarantined after being identified as close contact to Pitas BN candidate Sufian Abdul Karim during campaigning for the Sabah state election.
Hishammuddin said on Facebook that since quarantine, he has been tested for Covid-19 on three occasions and each test returned a negative result.
"Following the three negative tests, the Health Ministry through its Petaling District Health Office has issued a letter confirming their findings that my health is satisfactory, and issued the 'Release from Home Surveillance Order for Close Contacts (Covid-19) under Section 15 (1) of the Prevention and Control of Infectious Diseases Act 1988' to me beginning today, Oct 5," he added.
Hishammuddin said he will resume work at Wisma Putra tomorrow and thanked the Health Ministry and its personnel for their assistance throughout his quarantine.