Covid-19 cases in Tawar cluster grows to 65
Posted On August 24, 2020

COVID-19 | The Tawar cluster recorded another two local transmissions, bringing the total people infected with Covid-19 in the cluster to 65, according to the Health Ministry.

At present, there are 15 active Covid-19 clusters. The Tawar cluster is the worst community-transmitted active cluster.

The Tawar cluster started from an index case who attended a religious event in Kedah. The two new cases from the cluster today were also detected in Kedah.

Cases from this cluster are now found in a number of districts in Kedah and Penang including Baling, Kuala Muda, Kulim, Sik, Barat Daya, Timur Laut, and Seberang Perai Utara.

A total of 3,286 people within the Tawar cluster have been screened, Health Ministry director-general Dr Noor Hisham Abdullah said in a statement.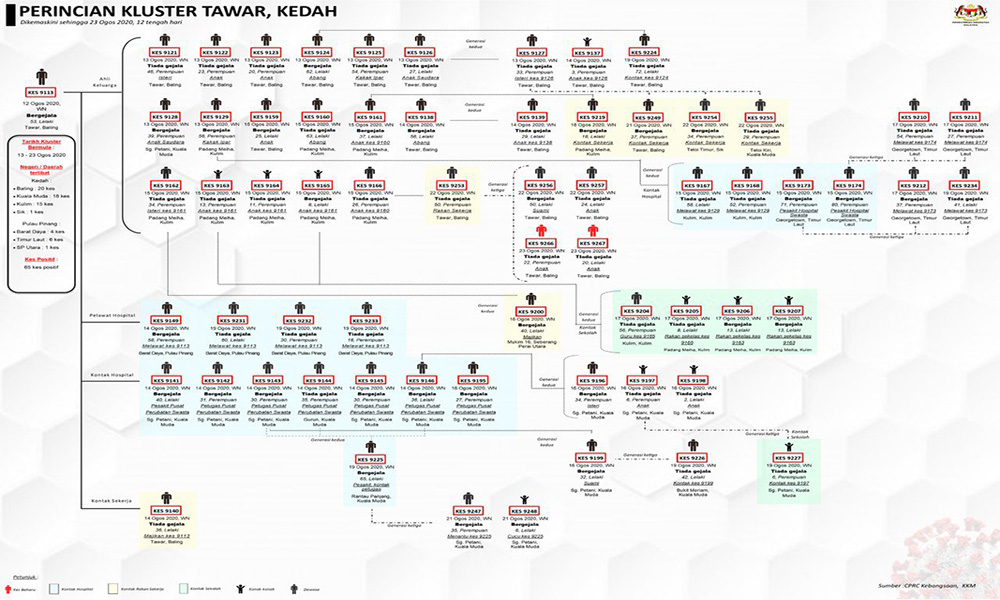 The active cluster with the most cases is still the Bukit Jalil immigration detention centre cluster but this was confined within the facility with no risk to the wider community. It has not seen any new cases for 11 days.
Apart from the two local transmissions, the country also recorded eight new imported cases, bringing the total new cases today to 10.
The imported cases comprised three Malaysians and five non-citizens returning from Japan (3), Indonesia (3), Maldives (1), and Mexico (1).
Three of these imported cases are on board a ship in Bintulu, Sarawak, and are part of the Alam cluster. That cluster now has seven cases.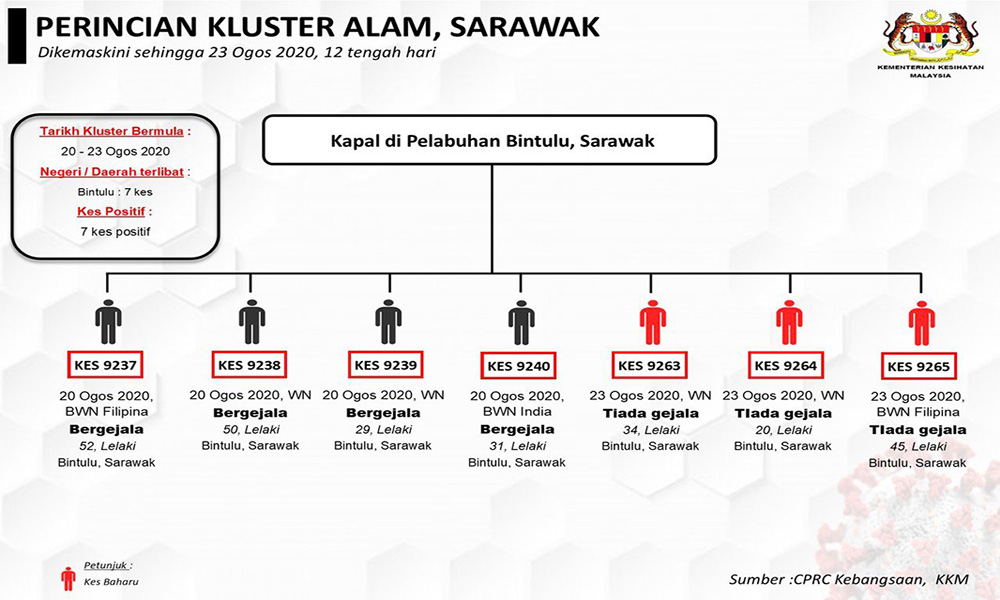 A total of 27 people on board the ship have been tested. Two more are waiting for results.
The 10 new infections today bring the cumulative cases to 9,267 cases, of which 8,959 have recovered including 10 new recoveries today.
However, the number of people in the intensive care unit (ICU) climbed to nine, the highest since May 31. Four of the ICU patients need ventilators to breathe.
No new death was recorded for the 25th consecutive day. The death toll stands at 125.